Increasing the number of email subscribers could ultimately lead to an increase in revenue. This is crucial as revenue lies at the heart of any business venture. Maintaining an email list plays an integral role in marketing. An increasing list of email subscribers will gradually attract customers while improving and building relationships as well. Attracting the right crowd of potential customers will determine the success of your business. Having a huge list of email subscribers makes a difference but the real difference is made by the quality of the subscribers.
The one question repeatedly playing in your mind is, 'how can I get more email subscribers?' The answer to this one is rather simple. However, when building your email subscriber list ensure that you target the right kind of subscribers. Wasting time isn't an option for any business. For your convenience, here's a brief list on how one can increase their list of email subscribers both efficiently and effectively.
Here's How to Increase Your List of Email Subscribers Quickly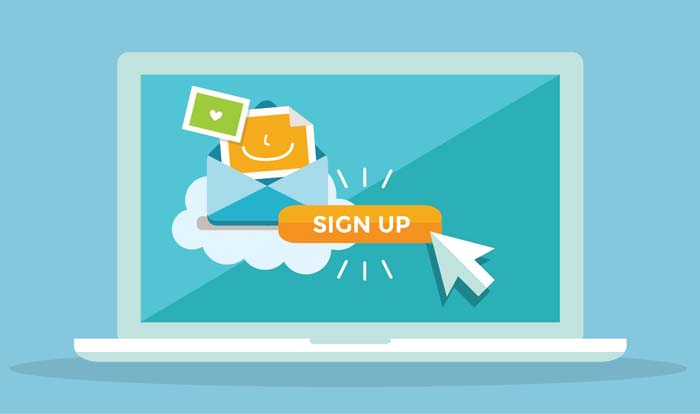 1. Make the submit button interactive – How about making the submit button react to the action of the user. Maybe it could change colors when highlighted by the mouse and then change again when the mouse pointer is moved elsewhere. Using a green and red color coded submit button could prove to be very beneficial. Our minds are trained to associate the color 'green' with moving ahead and doing the right thing, while when we think of the color 'red', we instantly associate it with halting, stopping, or not doing the right thing. Make your submit button turn green when highlighted by the mouse pointer. This would in a way, psychologically steer a customer's mind in the right direction.
2. Entering the email address in should be made easy – In order to become a subscriber, one has to enter their email address into a text filed. Now when this pop up usually appears in the text box there a sample of what an email address looks like and how to write it. While this seems like it is helpful, it's actually annoying and frustrating for the subscriber to have to erase that text before entering the email ID. Give your customers the benefit of the doubt. Trust that they are intelligent enough to fill in their own email address. However, if you still insist on using this approach then ensure to make the sample text disappear as the person clicks on the text box to enter their email ID.
3. Motivate people to forward your newsletter – This is a simple and quick way of getting more email subscribers. Encourage people to forward an email to a friend. Some may even make use of the call-a –friend button to spread the word. However, if a person does forward your email to a friend ensure that the process is simple and quick. If one finds it to be a lengthy procedure, one is likely to back out mid-way. Making people forward your email will also help you keep a track on the number of people they have sent the email to.
4. Make it easy to subscribe – A number of websites have their subscription forms on the main page of the website itself. Doesn't this appear to be convenient? Well, at first it might look that way but it actually isn't. What happens if someone clicks on other pages? Then they would have to go all the way back to the main page to subscribe. Most websites lose subscribers just because of this. Making use of a sidebar or even a subscription tab which appears on every page seems like a much better alternative. This will have your email subscriber list increasing at a rapid rate.
5. Use QR Codes – As many customers are browsing the internet using their phones, making use of a QR code seems reasonable. The person scans the code and a URL opens. QR codes can easily be distributed anywhere. They can be stuck on postcards and even on business cards.
6. Allow the user to be in control – Allowing the user to be in control is important. The worst thing you could do is to make the user feel powerless. If there are a large number of un-subscribers you know that you're surely not doing things the right way. When a person has requested for a newsletter to be stopped, stop sending it or even better than that, ask them if they would like to reduce the frequency of the newsletter. However, do not pressure them into continuing something they don't want. You need to build an email subscriber list which isn't full of people who hate you.
7. Make good use of social media – With Facebook's new updated API, you could post your newsletter on your Facebook page. Using social media to help your list of email subscribers grow is clever and helpful. Reaching out to people through Twitter is also recommended. Facebook and Twitter could help build your contact list very quickly.
If you're in a position wondering whether or not your contact list will grow, you've come to the right place. Following these guidelines will give you a good idea of what you need to be doing to increase your list of email subscribers.